Advertising Calendars for 2019
We think you will be surprised! Very Surprised!
Creative Calendars are about to show you the largest selection of Promotional Calendars available in Britain! Here, under one roof, is a 'one stop shop' for all your requirements! Whether your requirement is for a pictorial wall or desk calendar, a commercial calendar, a shipping calendar, or a charity calendar, your quest is over!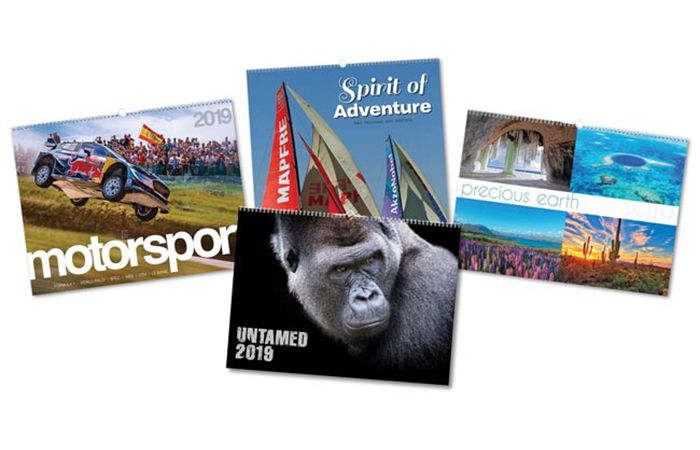 Promotional Business Calendars have stood the test of time!
They have been around almost as long as man became aware of his surroundings, and needed a "plan" for the future! Interestingly, the English word calendar is derived from the Latin word kalendae, which was the Latin name of the first day of every month.
A Calendar is used to help people manage their personal schedules, time and activities, particularly when individuals have numerous work, school, and family commitments. A Promotional Calendar takes this service to another level - ensuring that your Business details remain clearly on view to the user - 365 days per year!
No other advertising medium can offer the sheer value for money that a Business Calendar can!
If your Advertising Calendar is not on the wall of your Customer, the one your competitor gave out might be!
Let's get right to the "nitty-gritty"! Calendars are there (as far as you are concerned!) for one reason only - to market your Business!
Which they certainly will - silently and efficiently, 365 days a year!
Promotional Calendars can be more!
They can be a form of art, brightening up even the dullest of workplaces! Even 'open plan' offices can benefit from the use of a desktop Business Calendar, while the range of wall Business Calendars is vast. Choosing a stunning design will ensure that your Business Calendar stands out from the crowd!
However, should your needs still not be satisfied, fear not! We can produce a Business Calendar to your own exact specification, using your own pictures. It's all part of the outstanding service offered by Creative Calendars to you - our customers and future customers!
There's also a lot more on offer!
Creative Calendars also offer an extensive range of shipping calendars - an essential working tool to all involved in freight distribution and delivery.
If you are a Charity, we will always offer full support to produce your own charity calendars. With our facilities for producing both low or high volume requirements, we really can swell your coffers!
Our Diary collection offers a fantastic assortment of both pocket and desk options. All are superbly and attractively bound, using a wide variety of covering materials. Many can have both cover and text custom made to reflect your exact business needs.
Finally, Christmas Cards! Our vast selection all support Cancer Research U.K. A much better option than an impersonal e-card!
Go ahead - enter our 'one stop shop' for the largest selection of Advertising Calendars available in Britain!